Farm Gate and Open-Air Produce Stand Tours
North Grenville has many farms and small businesses that offer delicious, healthy, fresh produce, flowers (and more) as well as unique handmade items! Check out the list below and tour around by following the order (top to bottom) - it will take you on a route!
Kemptville Farmer's Market
Address: 200 Sanders St, Kemptville, ON K0G 1J0
Website: Home | Kemptville Farmers' Market (kemptvillefarmersmarket.ca)
Hours: Sunday 12:00 PM-4:00 PM
What do they offer?
The Kemptville Farmer's Market is a producers' market! They feature local vegetables, fruit, meat, herbs, flowers, snacks, baked goods, beverages, honey and maple products, preserves, ethnic cuisine, arts & crafts, soap, candles, and so much more! Kemptville has incredibly talented and skilled artists, farmers, and creators whose work will be available for purchase. Support local, shop local. Exploring the Kemptville Farmer's Market is an activity you can feel good about! Check them out every Sunday from 12:00 PM-4:00 PM mid-May until the end of October!
BerryGood Farms
Address: 2295 County Rd 43, Kemptville, ON K0G 1J0
Website: https://www.facebook.com/BerryGoodFarms1/
Hours: Monday-Sunday 8:00 AM-12:00 PM
What do they offer?
BerryGood Farms is a producer like no other! They grow Haskap berries (also known as Honey Berries) and have pick-your-own options! They also have many acres of delectable Romeo and Juliet dwarf cherries for the pick your own market. Haskap is one of the new super berries - even more antioxidant powers than blueberries! In the fall, their attention turns to their annual craft and collectibles weekends. They specialize in hand made Christmas and seasonal items to celebrate the holidays such as: table center pieces, and wreaths. There are so many crafts and décor to choose from. Everything is handcrafted with love utilizing some of their local BerryGood Farms greenery.
Rideau Woodland Ramble
Address: 7210 Burritts Rapids Rd, Merrickville
Website: https://www.rideauwoodlandramble.com/
Hours: Monday-Sunday 9:00 AM-5:00 PM
What do they offer?
Rideau Woodland Ramble is a garden center like no other! They specialize in rare and unusual hostas and conifers and most notably, the gardens are the result of years of evolution, experimentation and discovery which makes them a completely unique experience! While the focus is certainly on the tour of the breathtaking plants and flowers, Rideau Woodland Ramble also has flowers for sale such as: broadleaf evergreens, trees, shrubs, vines, grasses, daylilies, peonies, hostas, ferns, roses, iris, water plants, and perennials. Check it out and immerse yourself in a remarkable experience and finish off your tour by stopping at their shop and buying some beautiful plants that everyone would be envious of!
Connerty Meadows Farms
Address: 235 Davis Rd, Merickville, ON, K0G 1N0
Website: https://www.facebook.com/Connertymeadowsfarm/
Hours: Dependent on orders. Contact them through Facebook for more information.
What do they offer?
Looking for luxurious bath and beauty products? Then check out Connerty Meadows Farms! This small farm situated between Kemptville and Merrickville sells incredible, nourishing soap made from fresh goat's milk from their very own livestock. Each batch of soap is handcrafted, and all ingredients utilized are produced or grown on their farm! Not only do they sell highly sought-after soaps, they also market delicious, pasteurized farm fresh eggs from their own chickens. Connerty Meadows Farm is a family-owned business that you can truly feel good about supporting; they are passionate, caring farmers and they indisputably raise their animals with nothing but love.
Forget Me Not Herbs and Flowers
Address: 1920 Beach Road, Oxford Mills, ON K0G 1S0
Website: https://www.forgetmenotgreenhouse.com/ and https://www.facebook.com/ForgetMeNotHerbsNFlowers
Hours: early May to mid-July: Tuesday-Friday 9:00 AM-6:00 PM, Saturday 9:00 AM-5:00 PM, Sunday 12:00 PM-3:00 PM
What do they offer?
Forget-me-not Herbs n' Flowers is a family-owned greenhouse and nursery nestled in the picturesque countryside on the outskirts of historic Oxford Mills. They have annuals, heirloom tomatoes, perennials, vegetables, potted herbs, and hanging baskets. Claudia & Chris Sutton are gardener extraordinaires, and Claudia's write-ups on gardening tips and tricks have been featured in the North Grenville Times on several occasions! Even better, they have two purrfect greenhouse greeters! Dog Ollie and cat Bella are so excited to see you!
Blue Barn Stitchery
Address: 2221 Beach Road, Oxford Mills, ON, K0G 1S0
Website: https://www.facebook.com/BlueBarnStitchery/?ref=page_internal
Hours: Hours are dependent on orders – check out the Facebook page linked above for more information on pop-up shops and times.
What do they offer?
This local business undeniably excels in the crafting of beautiful accessories such as: beanies, jewelry, purses, shawls, sun hats, and even items for your niches including: yoga bags, and water bottle carriers. Find the accessories that help you celebrate and embrace your uniqueness, creativity, and passion. All items are of supreme quality and certainly handmade with love and care by business owner Catherine. Make sure you check out the shop when you see something you like because inventory does change depending on the season of the sale! Find what makes you, you at Blue Barn Stitchery.
Wildling Acres
Address: 780 County Rd 44, Kemptville, ON K0G 1J0
Website: https://www.wildlingacres.ca/
Hours: Tuesday-Thursday 6:00 PM-8:00 PM and Saturday 10:00 AM-4:00 PM during the busy season (Mid July-September), Sunday: 12:00-4:00 PM at the Kemptville Farmer's Market (200 Sanders Street, Kemptville, ON)
What do they offer?
Absolutely breathtaking, alluring yet affordable flowers and arrangements are more accessible than you may think! Wildling Acres is a mother-son operated flower farm that focuses on sustainable production and management. They abstain from using pesticides and chemicals and have committed to using organic materials, water conservation techniques, compostable wrapping, while maintaining the health of the soil and insects that naturally occur on their farm. They have an expansive range of charming flowers including, but not exclusive to: tulips, peonies, butter cups, foxgloves, lilacs, daffodils, and foxtrot tulips! Catch them at the farm or at the Kemptville Farmer's Market on Sundays (both addresses above)!
Country Side Antiques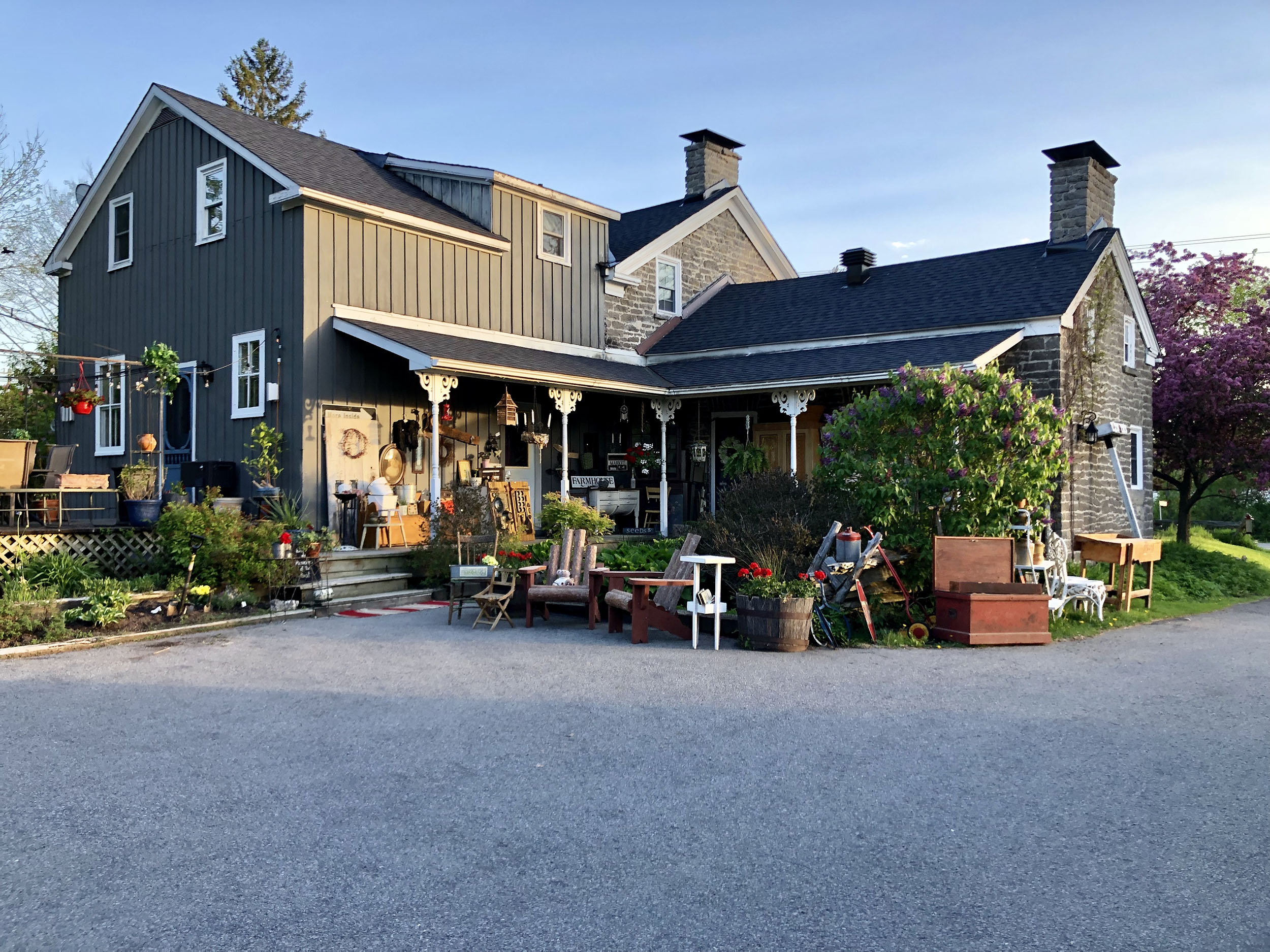 Address: 895 County Road 44, Kemptville, ON, K0G 1J0
Website: https://www.countrysideantiques.ca/
Hours: Monday-Sunday 11:00 AM – 6:00 PM
What do they offer?
Struggling to find that perfectly unique gift for someone important in your life? Wanting to source some eccentric décor for your home? Country Side Antiques is the place to check out! Not only do they host a fascinating array of oddities and collectables, the shop is located inside a stately, heritage stone home surrounded by breathtaking gardens and long-standing trees. The most exciting part? Their inventory is constantly changing and being added to, alas, there really is something for everyone. Whether you're looking for a cupboard, chairs, tables, glass or chinaware, this antique store will surely pique your interest. Head on over to the address listed above; only ten minutes away from Kemptville.
Purely Elemental
Address: 2739 Leeds Grenville Rd 20, (Oxford Station Rd) RR#2 Kemptville ON, K0G 1T0
Website: Reiki Sessions | Purely Elemental | Kemptville Ontario
Hours: By appointment only: availability days, evenings, weekends
What do they offer?
Purely Elemental is a home-based full-service wellness boutique focused on healing. They offer luxurious handcrafted self-care items like soap, bath salts, candles and candies made with their tea herbs and minimal ingredients! They also carry crystals and smudge herbs, and original art works that are completely unique! The primary goal of this space is to be a place of healing, offering Reiki and IET and a Zen space for those struggling with mental and emotional health; truly a place to feel seen and heard! Contact them to make an appointment to shop or heal today!
JDW Custom Farming and Lavender Field
Address: 947 Townline Road, Kemptville ON, K0G 1J0
Website: https://www.jdwcustomfarming.com/ and https://www.facebook.com/jdwcustomfarming/
Hours: Saturday 12:00 PM-4:00 PM, Sunday: 12:00-4:00 PM at the Kemptville Farmer's Market (200 Sanders Street, Kemptville, ON)
What do they offer?
JDW Custom Farming and Lavender Field is a picturesque family-owned farm that launched in 2021. Most notably, their lavender field has provided customers with incredible dried lavender, soap, lotion, herbal teas, and baked goods. In addition, they sell fresh fruits and vegetables from the farm, pickled eggs, pickles, fresh chicken and duck eggs, relish, and other tantalizing canned goods. Did you know that North Grenville Councilor Kristin Strackerjan even has some of her beehives on site to pollinate the lavender to craft a beautiful lavender honey!?
Impressively, their expertise does not stop at their farm fresh goods! JDW Custom Farming also boasts beautiful home decor pieces made from repurposed barn boards! Check out their website for more information or stop by their farm gate sale at the address listed above!
Townline Road Pumpkin Patch
Johnson Brothers Tree Farm
Dulmage Farms.